These top 10 boats are the worlds fastest, most unique, and truly amazing boats! I can't believe they actually exist.
1. Hydrofoil Water Craft
The Quadrofoil is an eco friendly water craft that floats above water on it's hydrofoil. It's extremely quiet, all electric and has zero emissions which enable it to go on rivers, lakes, seas and eco friendly areas where most boats are not allowed. The thrill of riding above the water is like gliding effortlessly through the air.
2. PlanetSolar (aka MS Tûranor)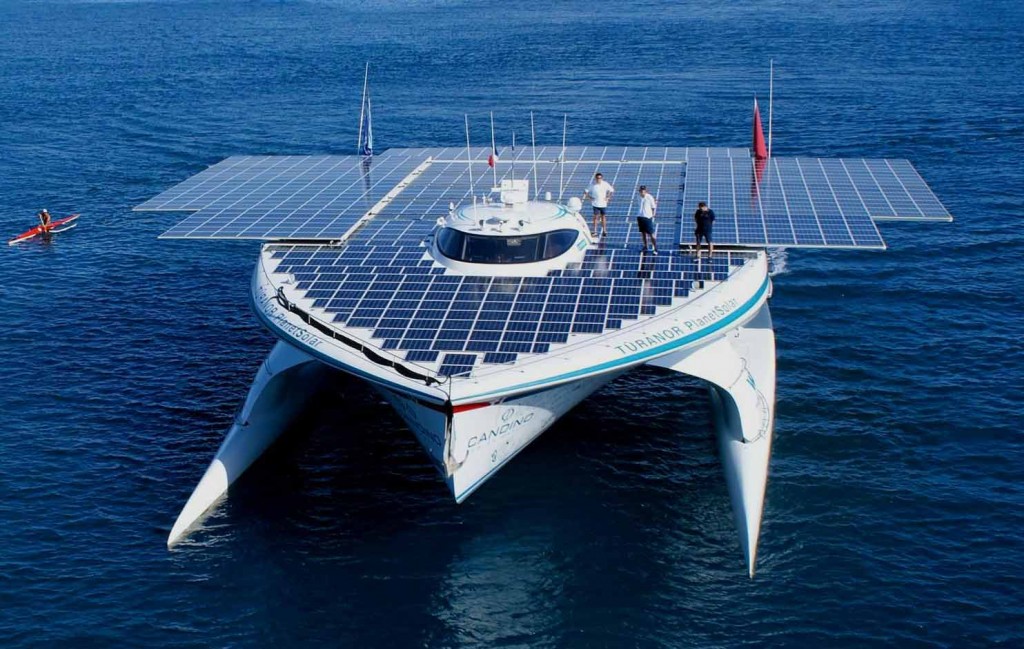 PlanetSolar was introduced in 2010 and is the largest solar powered boat in the world. It's 101 feet long and covered with solar panels. The solar powers produce 93 kW of power and connect to 2 electric motors. The motors are connected to 8 1/2 tons of batteries.
The PlanetSolar can reach speeds of up to 16 miles an hour. It was built in Germany by Knierim Yachtbau and it costs over 14 million dollars to build it.
In 2012, it was the first solar electric boat to ever conquer navigating around the world.
3. Wood Fired HotTug Boat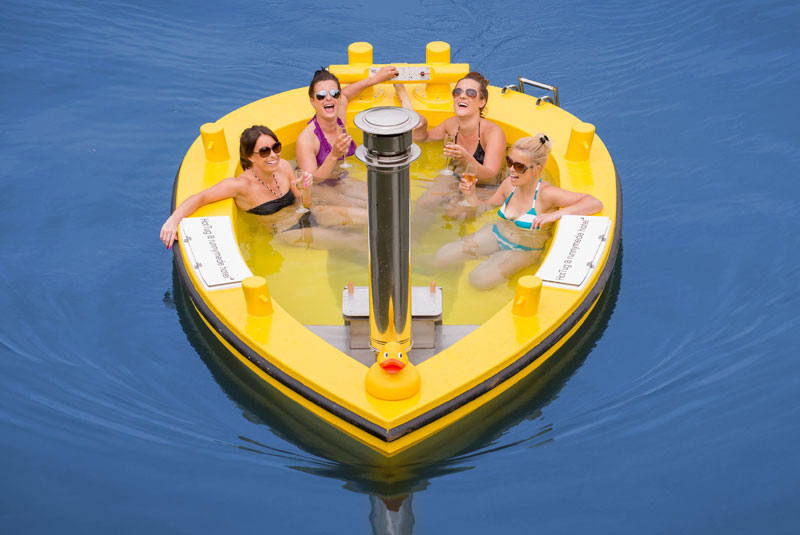 Who wouldn't love to float around in this HotTug Boat? It has a stainless steel wood stove that heats the water and a quiet electric motor. The stove heats the water in just over two hours and it's so safe you can touch it without getting burned. Can you imagine the fun you would have on this boat! I want it!
4. MY Ady Gil (aka Earthrace)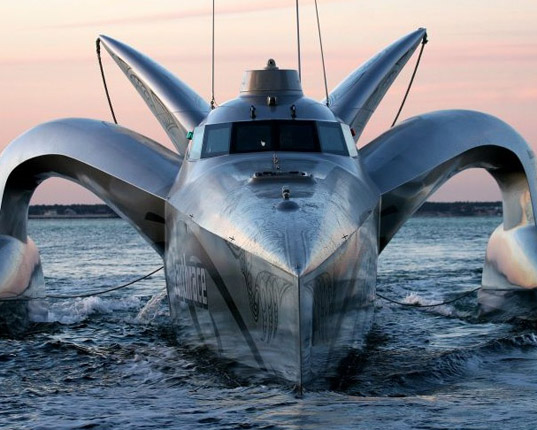 The Earthrace was an amazing vessel. It was seventy eight feet long and was created to break the world record for racing around the world. It ran on regular diesel or biodiesel, used hemp composites, and used vegetable oil lubricant.
Unfortunately, the Earthrace collided with two boats. The first was a Guatemalan fishing boat that killed one of it's passengers. The second was a Japanese whaling support vessel that ended up sinking the vessel.
5. Amphibious WaterCar
This amphibious car is one of the fastest amphibious vehicles I've ever heard of. It only has one motor and can reach speeds of 55+ MPH on land and 44 MPH on water. You can pull skiers and drive it just like a ski boat. It takes less than 15 seconds to engage it from land to water. Amazing!
6. NAVY LCAC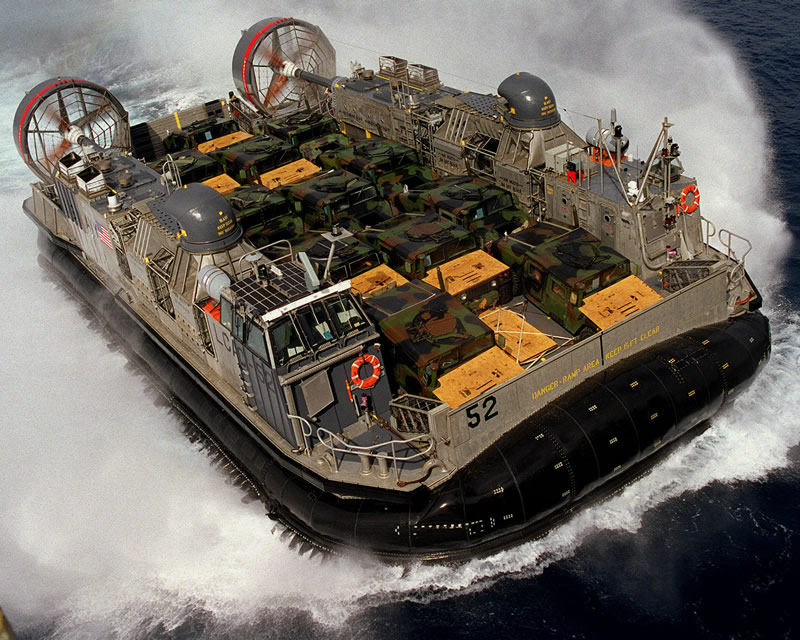 The LCAC (Landing Craft Air Cusion) is a United States Navy Assault hovercraft. It's capable of high speeds and can cruise right along the beach efficiently. The Landing Craft can carry 60 to 75 tons and transports M-1 tanks, cargo, equipment, weapons and crew members to and from the beach shore. It's design allows it to access more than 70 percent of the worlds coastline. Conventional landing crafts can only reach 15 percent of the worlds coastline.
7. Jet Powered Kayak
The JetKayak is perfect for joyriding and fishing! It can cruise at speeds up to 25 mph in as little as 10 inches of water. Their are two different models, one with a center joystick and another with two side levers. Both look incredibly fun! It also comes with two dry compartments, fishing rod holders, and an electric start.
8. The Flying Hovercraft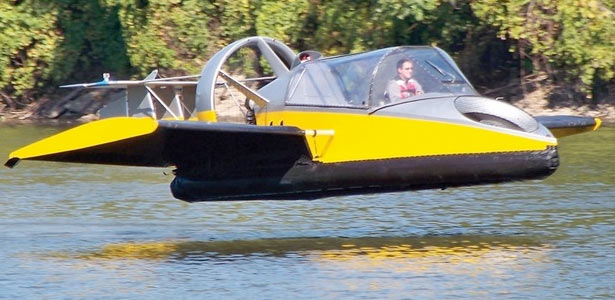 This hovercraft has a 130-hp twin-cylinder, liquid-cooled gasoline, turbocharged and fuel-injected engine. It can fly up to 70 MPH, operate in fresh or saltwater, hover over sand, mud, grass, swamp, desert, ice, and snow! It's wings allow pilots to jump over obstacles up to 20 feet high.
10. Sealander
The Sealander is a camper designed for land and water! Can you imagine backing your camper into the water, flipping out the motor, and exploring until you find your on-the-water campsite? It comes with a sunroof, seating for 6, bunk beds, and a fold out table. The fiberglass reinforced shell is extremely durable and designed to float even if you spring a leak!
10. Flying Amphibious Boat
This 2 passenger ultralight goes on land, water, and flies through the sky with is huge hang gliding wings! It can fly anywhere between 28mph to 100mph at heights up to 10,000 ft.  A 12 gallon tank of gas can take you 300 miles.